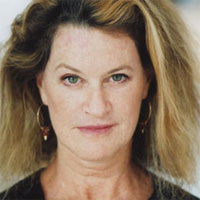 JANE COMFORT is a choreographer, writer, and director known for issue-oriented works integrating text and movement. Since 1978 she has created over 60 dance/theater works, most of them evening-length, that have been presented throughout the United States, in Europe, and in Latin America. Recent works include the company's Bessie Award winning 40th Anniversary Retrospective produced by La MaMa with Lumberyard, You Are Here, commissioned by the American Dance Institute and presented at The Kitchen, NYC, Altiplano, also commissioned by the American Dance Institute and presented at La MaMa, Beauty, a dance theater work about the cultural pressures surrounding women's physique, attire, and appearance, An American Rendition, commissioned by NPN and NYSCA and voted a Best of 2008 Performance by both WNET Sunday Arts and Gay City News.
JANE COMFORT AND COMPANY has performed at TEDx, and has been presented at Lincoln Center, PS 122, Danspace Project, DTW, and Off Broadway at Classic Stage Company in New York, Jacob's Pillow Dance Festival, American Dance Institute, ADF, Bates Dance Festival, PICA, New Orleans' CAC, DC's Dance Place, The Flynn Theater, The American Center in Paris, Antwerp's de Singel Theater, Actors' Theatre of Louisville, the International Festival of Londrina, Brazil, and many theaters and colleges across the US.
Jane also works in theater and opera, and choreographed the Broadway musicals Passion, by Stephen Sondheim, and Amour, by Michel Legrand as well as Shakespeare in the Park's Much Ado About Nothing (2005) and the Off-Broadway musical Wilder at Playwrights Horizons. Her choreography for Lyric Opera of Chicago's production of Salome with Deborah Voigt in the title role was reprised at the Saito Kinen Festival in Japan in 2010.
She received a 2018 BESSIE Award for her 40th Anniversary Retrospective and a 2018 Lifetime Achievement Award from The American Dance Guild.  She received a 2010 Guggenheim Fellowship for the creation of a new dance work, Beauty, a BESSIE Award for Underground River, a Collaboration Award from the Coalition of Professional Women in the Arts and Media in 2006 for her collaboration with composer Joan La Barbara on Fleeting Thoughts, a Doris Duke Award for New Work in 2000, and a Habie Award for distinguished service to the arts from the University of North Carolina in 2003.
She has received 17 NEA fellowships and grants (1979 to 2018), four National Performance Network commissions, multiple NY State Council on the Arts grants over 20 years as well as support from Department of Cultural Affairs, Creative Capital, NY Foundation for the Arts, American Music Center, Mary Flagler Cary Foundation, Meet the Composer, Fund for US Artists, BUILD, Altria, Arts International, La Red, New England Foundation for the Arts, Rockefeller Foundation MAP Fund, JP Morgan, Harkness Foundation, Bossak/Heilbron, and other organizations.
Recent commissions include Ballet Memphis, Stanford University, Greater Hartford Academy of the Arts, National Performance Network , Performing Americas, University of Washington, Jeanne Ruddy Dance, The Danspace Project, Headwaters Dance, The Joyce Theater, the Alvin Ailey School, La Red, and American Dance Festival.
Jane was a board member of The Field for 20 years, was an artist advisor to Bates Dance Festival, and was a founder of the Gender Project.  She was the 2009 artist mentor to the Sugar Salon, which supported emerging female choreographers.
"The guiding spirits behind the theater of mixed forms are often choreographers…Jane Comfort is one of the most fertile minds in this genre."
– The New York Times

All content © Jane Comfort & Company. All rights reserved. | Photographs by Arthur Elgort, unless noted otherwise | Site design by AB