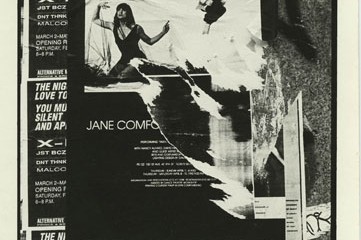 40th Anniversary Retrospective Concert!
Jane Comfort and Company turns 40! Jane Comfort and Company will celebrate its 40th anniversary with a retrospective concert in April 2018. Over 23 former and current company members will perform excerpts of seminal works ranging from 1978 to 2018, including the gender and...

Press of Recent Works
YOU ARE HERE Deborah Jowitt said: "The atmosphere is heightened by Joe Levasseur's splendid lighting, and Lianne Arnold's ditto video designs. Brandon Wolcott's sensitive music and sound design begins with hollow sonorities and metallic percussion."  "Darrin Wright dances alone—a marvel of sinuous twists and...

Take a look in the Archives!
We've recently added more images to the Artifacts.  Take a look at old photographs and rehearsal scores from Jane's early works.
All content © Jane Comfort & Company. All rights reserved. | Photographs by Arthur Elgort, unless noted otherwise | Site design by AB