Composer/Vocalist: An American Rendition; Fleeting Thoughts: Mr. Henderson's 3AM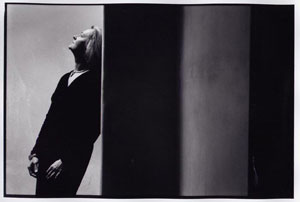 Composer, performer and sound artist Joan La Barbara has been hailed as "one of the great vocal virtuosas of our time" (San Francisco Examiner). Her multi-layered compositions often utilize her signature extended vocal techniques, garnering her awards including DAAD Artist-in-Residency in Berlin, 7 NEA grants, numerous commissions and most recently a Guggenheim Fellowship in Music Composition. La Barbara has created sound scores for film, video and dance and has premiered landmark compositions by Robert Ashley, John Cage, Morton Feldman, Philip Glass, Alvin Lucier, Steve Reich and Morton Subotnick. She is currently at work on an opera inspired by the life and work of Virginia Woolf.
In 2006 Joan La Barbara and Jane Comfort were honored with the First Collaboration Award from The Coalition of Professional Women in the Arts & Media, at the historic Cherry Lane Theatre, New York.
Photo: Julie Graber
www.joanlabarbara.com
All content © Jane Comfort & Company. All rights reserved. | Photographs by Arthur Elgort, unless noted otherwise | Site design by AB